Pipe & Tubing
With the largest and most comprehensive pipe and tubing extrusion capability in the world, PCC Energy Group offers the widest variety of materials and sizes for all of your applications.
Bigger, Better Pipe Solutions
With vertical and horizontal presses ranging from 12,000 to 35,000 tons, PCC Energy Group has the most comprehensive pipe extrusion capability in the world.
The integrated capabilities of Special Metals, Wyman Gordon, Rollmet, and RathGibson allow us to manufacture the longest length and largest diameter pipe in the industry.
Quality is Our Focus
All of our pipe and tubing processes are rigorously monitored, tested, and inspected with the level of PCC manufacturing quality to ensure the delivery of a product you can trust for the most demanding application.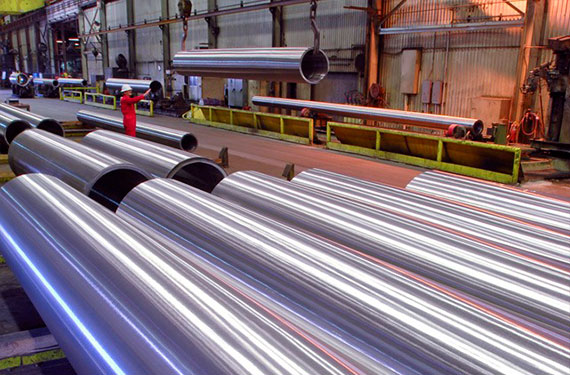 Enabling Oil & Gas
For the oil and gas industry, we manufacture seamless and welded pipe and tubing for a variety of applications including CRA OCTG and mechanical tubing, umbilical and control lines, and process piping.
Powerful Pipe Solutions
PCC Energy Group serves the power generation market with transfer pipe, boiler tube, main steam pipe, hot re-heat pipe, flue gas desulphurization units and other products for nuclear, coal-fired, renewable, and combined cycle applications.
Technical Information
We provide pipe and tubing products for defense industries, as well as various mechanical and structural applications using tubular products. The high-alloy nickel-casing and mechanical tubing products are used in the world's most technically demanding industries and applications, including sour service, high pressure and high temperature.
Chemical processing products include pipe and tube for ethylene production, caustic soda production and heat exchanger tubes. We also make a variety of products for the medical and general industrial industries, including x-ray machines, thermocouple sheathing tubes for industrial furnaces, and boiler tubes.
Pipe Size Ranges
Length – Up to 60'
Outside Diameter – 0.5" to 48"
Wall Thickness – 0.054" to 7"
Tubing Size Ranges
Outside Diameter – 0.25" NPS to 6"
Wall Thickness – 0.020" to 0.864"