RathGibson Products
From straight lengths to coil, welded and drawn, or seamless tubing and pipe, our products come in a variety of grades and can be made from any of 40 available high-performance alloys.
Welded Tube
Tubular products made from strip are roll formed and fusion welded along a longitudinal seam. The welding processes employed by RathGibson does not use any filler metals during the welding process.
Welded & Drawn Tubing
Tubular products are welded and then redrawn to a final size. Welded and drawn is ideal to produce heavy wall to diameter tubes that cannot be welded directly to size, but still enjoy the lower cost savings vs. seamless tubes. All RathGibson welded and drawn tubes are bright annealed.
Seamless Tubing
Tubular products are drawn from tube hollows, which are made by piercing a billet or by a hot extrusion process. Seamless is ideal for very heavy diameter to wall ratios and offers very good outside dimensional tolerances.
Forms
Straight Lengths
Tubes are available in straight lengths up to 85' (26 meters) depending upon the diameter, wall thickness and alloy.
Coils
Austenitic & Nickel Tubing Maximum Coil Lengths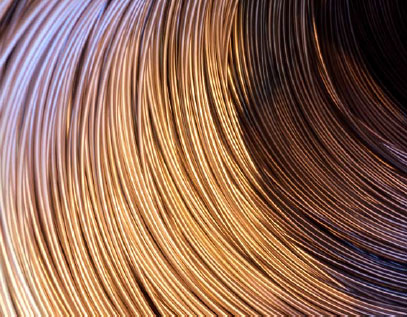 Finishes
Bright Annealing
Annealing is a critical production step. If performed poorly, metal surfaces can be rendered stained, pitted or cracked, and the metal left susceptible to corrosion.
Corrosion damage may be revealed in a number of ways, from stress corrosion cracking to intergranular attack or general corrosion. Any number of contaminants left on the tubing surface can and will cause damage during heat treatment.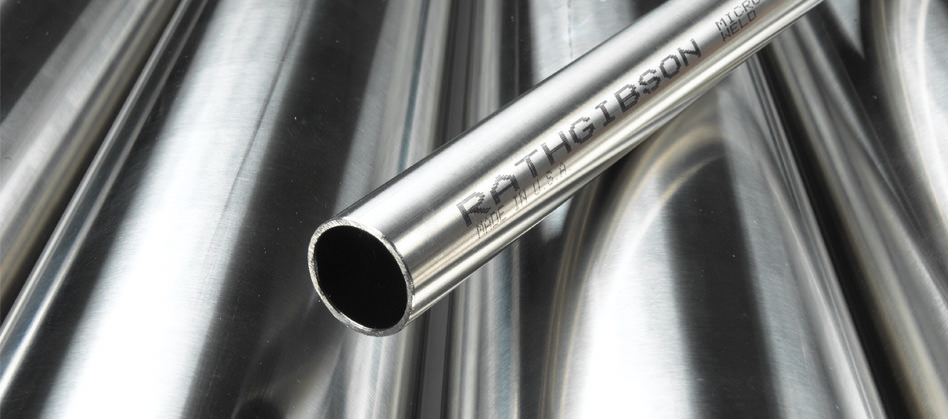 Electropolishing Technology
RathGibson's exclusive electropolishing process removes microscopic peaks and valleys that are a haven for bacteria and other contaminants from a tube's interior.
Using the principles of electrochemistry, this process produces a bright, reflective and chromium-enriched ID that cannot be achieved with mechanical polishing.
Markets that require Electropolishing Technology
Food/Beverage
Pharmaceutical
Biopharmaceutical
Chemical
Petrochemical
Power generation
Electropolishing Center
RathGibson has set the standard in electropolishing technology with our Electropolishing Center. Designed and built by RathGibson engineers, the Electropolishing Center is a facility fully dedicated to producing RathGibson True 10™ and True 15™ electropolished tubing.
Electropolishing Process
RathGibson's exclusive electropolishing process utilizes the principles of electrochemistry to help eliminate microscopic areas in tubing and pipe interiors where bacteria and other impurities may hide from conventional sanitation methods.
Deionized(DI) Water System
Because pure water is essential to the electropolishing process, RathGibson's Deionized (DI) Water System is state-of-the-art. A series of purification processes including reverse osmosis, twin dual-bed regenerated deionization, Ultra Violet, and 0.003 micron membrane filtration, yield water with purity levels of 18.3 megohm and less than 50 ppb Total Organic Carbons (TOC).
Cleanroom
In RathGibson's ISO 14644-1 Class 5 Cleanroom, "clean" is an understatement. It's where the inspection, final cleaning and packaging of RathGibson True 10™ and True 15™ electropolished tubing take place. Cleaning is accomplished with use of DI water and an electronics-grade, high purity nitrogen purge.
Post-Cleaning
Immediately after cleaning, the tubing ends are nitrogen purged and packed in a Polyamid nylon patch covered by an FDA-approved cap. Each tube is individually bagged using full-length 6-mil poly bagging. For maximum protection during shipment, the tubes are then packed in wood boxes.
Mechanical Polishing Technology
RathGibson's approaches to mechanical polishing meet and exceed industry standards. Tubing undergoes multiple passes through polishing heads to remove any unwanted residue.
After the desired surface finish is achieved, the tube is vinyl capped and labeled to ensure complete traceability.
Markets that require Mechanical Polishing Technology
Food/Beverage
Pharmaceutical
Biopharmaceutical
Chemical
Petrochemical
Power generation