RathGibson
RathGibson is one of the world's leading manufacturers of precision welded tubing and pipe for energy and industrial applications. From straight lengths to coil, welded and drawn, or seamless tubing and pipe, our products come in a variety of grades and can be made from any of 40 available high-performance alloys.

What began as a family business has grown into a worldwide force in tubing and pipe. At RathGibson, we understand that choosing between welded, welded and drawn, and seamless tubing or pipe can be complex. When making these selections, the quality requirements, such as corrosion, dimensional units and strength drive the selection process.
We are the preferred global solutions provider for precision stainless and specialty alloy tubing products. We serve diverse industries such as power generation, renewable, oil and gas, petrochemical, food and dairy, beverage, pharmaceutical, and general commercial.
At RathGibson, we realize that designing and manufacturing the world's finest tubing and pipe is only half of our mission. The other half is supplying our customers with the product they need when they need it. To that end, RathGibson has implemented a state-of-the-art system that tracks each order from the moment the quote is made through order placement, production, finishing, packaging, shipment and delivery.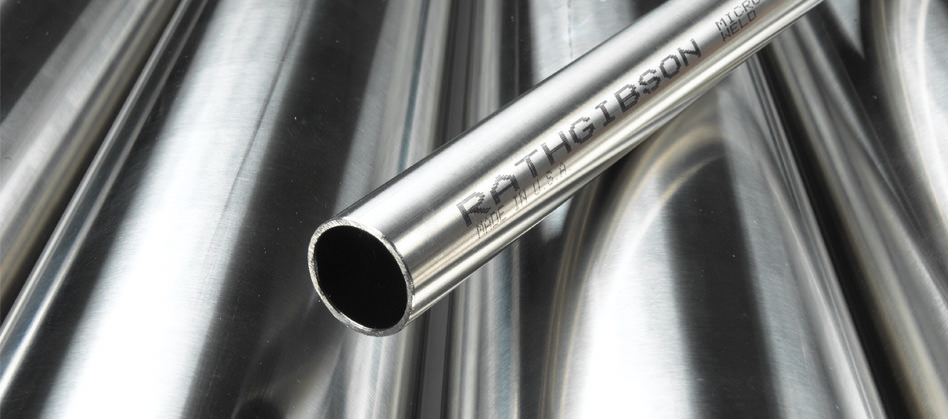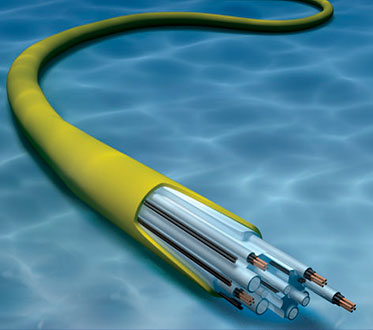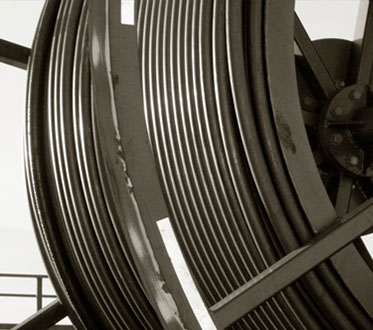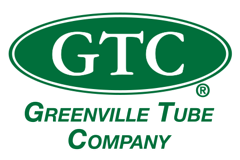 Customers from different industries rely on Greenville Tube's quick delivery of high-quality products. Seamless, welded and drawn tubing is manufactured at Greenville Tube, our Clarksville, Arkansas facility. The stringent production process generates tubing that is microstructurally homogeneous throughout its OD and wall.
Associations
RathGibson is proud to be a member of the following trade associations:
Manufacturing Methods
Each tube and pipe is manufactured to meet the most stringent regulatory and internal specifications. RathGibson's proprietary forming, welding and finishing processes produce tubing and pipe of superior performance. All stages of manufacturing are listed below in alphabetical order.
Annealing
Annealing is the controlled process of heating and cooling a metal to reduce hardness, remove stress and homogenize the material. Bright annealing produces the proper microstructure and performance. When performed off-line, it is done in a hydrogen atmosphere.
Cleaning
Cleaning is routinely performed to remove lubricant build-up from sizing and straightening.
Final Stage
Cutting and inspection is done in the final stages of mill operations.
Finishing
RathGibson offers a complete range of surface finishes. For more information, please visit the Products page of this site.
Forming
Metal strips are precisely aligned, then roll-formed for uniformity and concentricity.
Hammer Forging
Hammer forging, which results in a high degree of grain refinement, is used for commercial tubing and pipe sizes to produce uniform weld bead dimension and structure.
Packaging for Shipment
Each shipment is labeled with a bar code for identification and proper routing. Should the tubing or pipe possess polished finishes, they will be individually poly-wrapped and shipped in cardboard boxes.
Electropolished grades of tubing and pipe will be polyamide patched, capped and sleeved per specification(s) and shipped in wood boxes. Large quantities of commercial-quality tubing and pipe are shipped in square or hex bundles, while small quantities are shipped in triple-wall cardboard or wood boxes.
Passivation
Exposing the metal to oxygen produces a film of oxide that inhibits corrosion.
Polishing
Mechanical polishing is to 20µ-in Ra (0.5 µm) ID max. and 30µ-in Ra (0.8 µm) OD max. surface. Electropolishing is to 15µ-in Ra (0.4 µm) ID max. and 10µ-in Ra (0.25 µm) OD max. with packaging and cleaning in the ISO Class 5 Cleanroom.
Precision Sizing
To ensure uniform tubing roundness, RathGibson employs precision sizing techniques.
Raw Material Selection
RathGibson raw materials are manufactured to our unique specifications. Supplier selections are made based upon raw material quality as well as reputation and past performance.
Straightening
RathGibson tolerances are routinely better than industry standards [+/-0.030" (0.76 mm) in 3' (0.91 m)].
Testing
Eddy Current Testing is performed in-line at the tube mill as well as post off-line annealing in accordance with ASTM E426.
 Welding
RathGibson employs a number of different welds based upon regulations and customer requirements. Please note that filler material is never used!
Micro-Welding is performed for a superior weld
Modern Laser Welding increases productivity and lowers distortions
TIG Welding is used for precisely blended ID and OD welded surfaces
Plasma Arc Welding is chosen for its excellent thick section penetration with smaller heat affected zones
History
For more than half a century, RathGibson has consistently proven to be a top manufacturer of precision tubing to meet any industry challenges. By maintaining a customer-focused company culture, RathGibson's high-quality products have consistently managed to garner attention and thrive in various markets.
1957

The Rath family establishes a stainless steel fabrication shop (Rath Manufacturing) in Janesville, Wisconsin, to focus on the dairy industry.

1962

Glenn Gibson designs and installs a small diameter tubing mill in North Branch, New Jersey (Gibson Tube). During the next 40 years, Gibson Tube grows to become a key provider of welded stainless tubing to the power generation, oil & gas, beverage, chemical processing, desalination, automobile, and medical industries.

1975

Janesville begins producing welded stainless tubing to ASTM A270 specifications for food and dairy companies.

1986

The Janesville facility begins the production of full finished welded stainless tubing to ASTM A249 and ASTM A269 specifications for commercial applications.

1993

An off-line annealer is installed for nickel alloy tubing at Janesville.

1996

Janesville's electropolishing center becomes operational, producing 10 μ-in Ra and 15 μ-in Ra finish for high purity applications.

1997

Janesville installs the first laser mill.

1999

Rath Manufacturing, Janesville combines with Gibson Tube, North Branch.

2000

ISO 9001 registration is awarded to Janesville.

2001

North Branch enters subsea umbilical tubing market.

2002

North Branch facility expands to over 255,000 square feet.

North Branch adds titanium to the product line.

2005

RathGibson is formed; the focus on global markets accelerates.

2006

RathGibson acquires Greenville Tube in Clarksville, Arkansas, adding stainless and nickel alloy seamless tubing to the product portfolio.

2007

RathGibson opens offices in Shanghai, China; Knoxville, Australia; Seoul, South Korea; and Manama, Bahrain.

2008

RathGibson installs one of the world's largest degreasers in its Clarksville facility at a cost of $1.7 million. This closed cleaning system is designed to significantly decrease solvent release into the atmosphere.

RathGibson opens offices in Mumbai, India; Vienna, Austria; and Singapore.

2010

RathGibson is acquired by Precision Castparts Corp. (PCC).