The Right Fitting for Every Project
When you see green, you know it's the industry-standard Hackney Ladish brand of custom fittings and advanced metal components for high-pressure, high-temperature, critical applications.
Seamless Weld Fittings
For Smooth Operations
Hackney Ladish Seamless Weld Fittings make every process-intensive facility more efficient by offering intelligent designs, consistently strong performance and the range of configurations you need to keep everything running smoothly. All from one of the industry's leading names in high-performance fittings and forgings.
More Refined Grain Structure = More Strength
Our advanced manufacturing processes ensure that metal properties and physical characteristics are maintained at their most effective levels. The result? A more refined grain structure that improves both static and dynamic strength, toughness, yield point and fatigue resistance.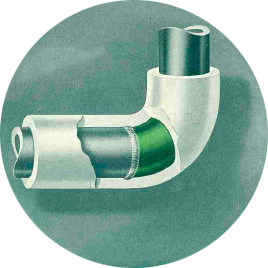 Seamless Weld Fittings Benefits
Maximum Flow Efficiency
Hackney Ladish Seamless Weld Fittings deliver superior flow performance via technically superior full effective radius and true circularity through the entire length.
Smooth Inner Surfaces
Our fittings increase operational efficiency with uniformly small inner walls—enabling free and unhampered flow throughout the piping system.
Ease of Alignment
Since Hackney Ladish Seamless Weld Fittings agree with general pipe sizes in wall thickness, OD alignment automatically ensures ID alignment.
Uniform Wall Thickness
Hackney Ladish Seamless Weld Fittings is mechanically worked under compression at forging temperatures: ensuring no buckling, stretching or weakening.
Maintain Design, Construction Efficiency
Because Hackney Ladish Seamless Weld Fittings need only plain circumferential welds, any qualified welder can integrate them into a piping system quickly and easily. And our fittings are adaptable to compact, space-saving layouts that help make the most of your facility.
Machine Bevel Ends
Permanent Identification
Full Effective Radius
Full Length Outlets
Heat Code Protection
Easy Insulation
Accurate Included Angle
Refined Grain Structure
Taper Tee Design
Long Crotch Radius
Freedom from Locked-In Stresses
Geometric Accuracy
Seamless Fittings
An Array of Alloys
Quality-controlled Hackney Ladish fittings are available in carbon steel, alloy steel, stainless steel, nickel and nickel alloys, chrome and chrome alloys, aluminum and aluminum alloys, and copper and copper alloys, as well as ferrous and non-ferrous metals and alloys.
A Range of Products
Elbows, tees, weld caps, crosses and reducers, as well as allied components. We offer a full line of large diameter or heavy-wall, low-temp carbon steel, WPB/WPC grades, and chrome fittings in grades P-5, P-9, P-11 and P-22, and high alloy P-91 and P-92.